Its that time of year again where there is starting to be a chill in the air and everything has turned pumpkin. And yes it is already October, unbelievable am I right? If you are a Halloween fiend you probably already have your costume all planned out or purchase. But I know there are a lot of people who love it but just don't plan ahead like that. Where my procrastinators at? Don't worry, I am a chronic procrastinator when it comes to most things, so I have your back.
Today I wanted to share some places you can find plus size costumes and accessories, and some of my favorite option that they have. I will try and share any coupon codes available for the individual stores. I will link to both the websites main pages and the recommended product pages.
Spirit Halloween offers a limited selection of both men and women's plus size costumes. They do have quite a few coupon codes.
Available Coupon Codes
Exclusive Savings at Spirit Halloween! Take 25% Off 1 item with code DONTLEAVE25. Terms apply. Limited time offer. Shop Halloween costumes, décor & more! Expires 11-02-16
Take 25% Off Already Reduced Sale Items at Spirit Halloween! Code CLEAR25. Limited time offer. Shop adult & kids Halloween costumes, Halloween décor & more! Expires 11-02-16
 Free Shipping orders $30+ at Spirit Halloween! Code SHIPIT4U. Limited time offer. Shop Halloween costumes, decorations & more! Expires 11-01-16
 Take $10 Off orders $65+, $20 Off $100+, $30 Off $150+ or $50 Off $200+ at Spirit Halloween! Code HIGHTIER. Terms apply. limited time offer. Shop costumes, décor & more! Expires 11-02-16
 Take $5 Off orders $30+, $10 Off $50+ or $25 Off $100+ at Spirit Halloween! Code TIER2016A. Exclusions apply. Limited time offer. Shop costumes, décor & more! Expires 11-01-16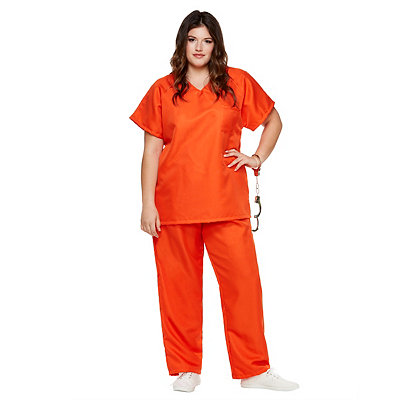 Adult Orange Prisoner Plus Size Costume – …
\r\n\tEveryone will know you're new to Litchfield in this officially licensed Orang… [More]
Price: $34.99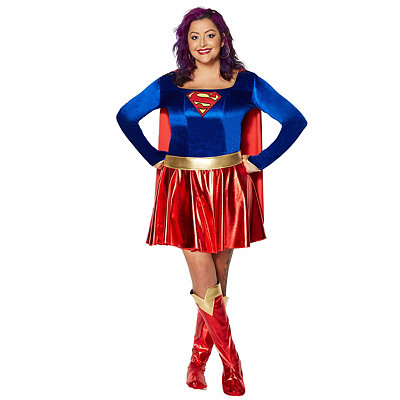 Adult Supergirl Plus Size Costume – Supergirl
Rescue distressed civilians in this fun; flirty and officially licensed Supergirl adult… [More]
Price: $54.99
They have limited supplies of various women's plus size costumes. Many seem to sell out as soon as they get them. They have a couple of coupon codes.
 Curvy Cash is happening till 10-03-16
 Get 25% off your full price purchase with code NEW25, expires 10-03-16
 

Receive $5 off your $15 purchase when you signup for Ashley Stewart text messages!

 

35% Off on Full Price Purchase with code ASOCT35 expires 10-03-16
Flaunt your curves in this sexy plus size maid costume featuring a faux leather peplum dress.
$69.50
Amazon's Halloween shop has a pretty decent selection of plus size costumes that come from a lot of different stores and brands. The link above should take you directly to the plus size listings. There are no coupon codes that I am aware of, but here are some f my favorite costumes available.


Leg Avenue Disney Plus-Size 2Pc. Classic Snow White Costume Dress and Bow Head Piece

California Costumes Women's Plus Size Olympic Goddess Costume

Elope Womens Storybook Waldo Where'S Wenda Kit Theme Party Halloween Costume

NonEcho Women's Halloween Novelty Costume Miss Edward Scissorhands Adult
Each of these places also have way more options from so many more stores. Of course when it comes to costumes sizing can be difficult. Sizes don't always accommodate everyone either. If you find this is the case for you or you find it hard to bite the bullet on paying for something you will only wear once, you might consider going a different direction. No, I am not going to suggest you sew your costume. Something I have done many times is invest in items, real clothing items that is, that I love but you can work into a costume.
Just to give you a quick idea, I really put very little thought in this, just to show you how easy it can be. Say you wanted to be a ballerina. Try these:
A Five Layer Tutu from Society Plus like this one in blush is perfect. The Champagne or the White color would work equally as well.


Pair it with this WearAll Women's Plus Size Plain Stretch Bodysuit
in white.
Just add a tiara and a pair of ballet slippers and your all done. Want to make it a more intricate, or soft colors aren't your thing. Turn it into either the black or white swan from swan lake with just a few different accessories. Your imagination is the limit and you don't have to be tied to the "costume" section just because you can't sew.
Let me know in comments below what you plan to be this Halloween or if you want to suggest additional places for ladies to shop. I will try and update this over the next couple of weeks as I find new places to buy costumes.