I was originally working on another post to go up today when I felt the need to write this first. This is something that has happened many times before with other retailers, and I feel very passionately about this topic. So the other post can wait.
You may or may not be aware that Old Navy announced recently they would be adding plus sizes to select stores. That is 75 stores to be exact. Those select stores will now be carrying up to a size 30W in store. I think we all thought this was about time. And I was really excited to hear plus sizes were coming to stores for many reasons. For me personally I seem to be all over the place in their sizing, so I really need to try their clothing on to find a good fit. But I also was excited for the women in my state, many who don't have disposable money to order something and then it not fit. Old Navy is more on the affordable side, and for women to be able to buy in store is a huge thing in a state where poverty is a huge problem. I had plans on going and getting some things to share with all of you.
Now I don't know exactly how many stores in total Old Navy has (I read its a 1,000, but I have no confirmation), but I do know that there are a least a few states that don't have any stores, like Alaska and Idaho. So my initial thought when I heard the news was that obviously some states, bigger states like  California, are going to have more than one location with plus sizes. But aside from that then all states that have a store will get at least one location with plus sizes in the stores, right?
The email announcement that plus size clothing was now in stores went out on the 9-21-18. I didn't have a chance to look it over for a few days, but did finally make the time to sit down and read my emails. In case you did not get that email or just don't read your emails, here is what it said: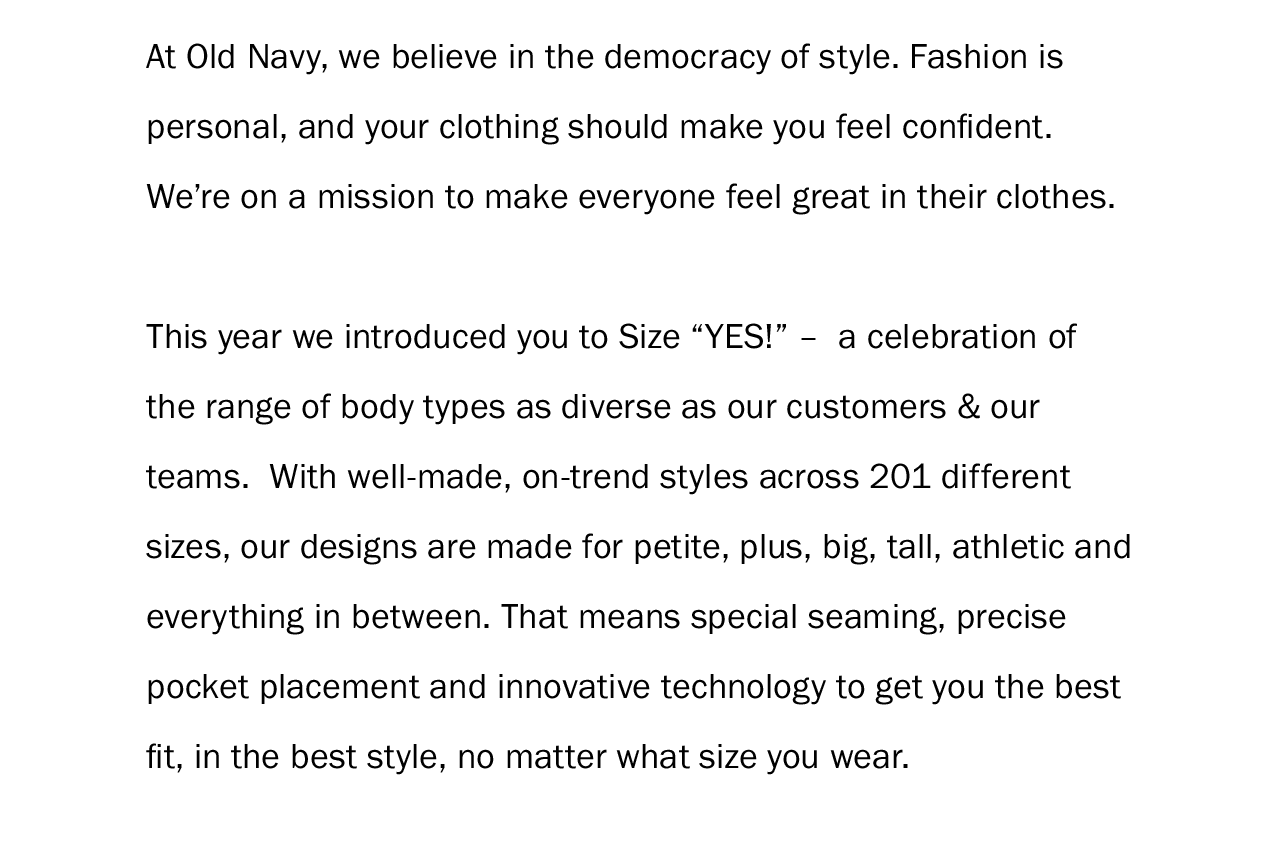 When you log on to Old Navy's website and go to their store locator, there is now a link at the top you can click to see a list of where the stores that carry plus sizes are located. (Just a note: The link that lists where Old Navy is adding plus sizes is working, but Old Navy seem to have take the actual list off of it between the time I started writing this and the day it was scheduled to post. I am not sure  why, but I am leaving the link in case they put the list back.) Obviously, the first thing I did was going to see where my local store was. That is when I realized, oh not every state is getting plus sizes. And I have to admit, I am kind of pissed about it.
Here in Kentucky we have one of the highest populations of plus size women per capita, yet we are not getting not even one store with plus sizes. And it's not just Kentucky they left out. Other states like West Virginia are also getting skipped over. Actually, only 31 states are getting plus sizes. Why?
I'm sure if we asked Old Navy they would respond with some polished bull shit answer like "we analyzed our orders and we felt we had to give the stores in the areas where we receive the most plus size orders the clothing in stores". I want to be clear, I have not asked them, and as far as I know Old Navy has not said this. But this has happened time and time again to my state when companies choose where to go, what stores to incorporate plus sizes into, etc.. They don't realize how short-sighted they are being. If your goal is to bring in new sales, you don't go where you are already making the sale.
Don't get me wrong, I am really glad Old Navy is finally bringing plus sizes back into stores. I just think if they truly cared about making their clothing more accessible, they would spread their plus size stores out better. The demographic and market is here, they just haven't been given the opportunity to see what you offer. Not everyone is comfortable ordering online. And even if they are comfortable ordering online, your sizing is just not consistent enough, and dealing with returns eats up time and money.
I'm really tired of companies skipping my state. There is a store the next state over that would be about an hour and a half drive away. And I have driven that far in the past to do a store try on. But that was for a new store with limited locations. So I don't feel inclined to do that here. Quite honestly I don't think I will be spending any money at Old Navy till they put plus sizes in a store in my state.
Tell me in the comments if Old Navy skipped over your state, and if so what state are you in?